Roofing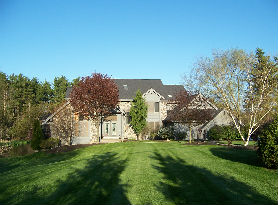 MasterPro Roofing stands as a leader among Akron roofing contractors that perform installations on all types of residential roofs. When you contact MasterPro for your next roofing project, know you'll be dealing with a family-owned business that offers personal attention and certified professionals with 25 years of roofing experience. Customer satisfaction is our main goal and we treat you as if we were doing our own roof. We take great care to get to know your needs and vision for your home, and can explain the full range of options for roofing in Cleveland, OH, in down-to-earth, understandable terms.
Old-Fashioned Service, Cutting-Edge Materials
MasterPro offers the kind of old-fashioned service that you would have gotten many decades ago, when life moved slower and more businesspeople took pride in ensuring a customer was happy not only this time around, but for life! At MasterPro, that's our goal. Our team wants to earn your business for life, so that the next time you need roof replacement or repair, ours will be the first number you call.
One of the ways we ensure your satisfaction is by not skimping on material quality. The materials used today for roofing Akron, OH homes are typically engineered to last for several decades, so it makes sense to use top-quality brands that will provide a longer service life and look better in the process. Our preferred roofing manufacturers include GAF, CertainTeed and Owens Corning.
We can guide you in selecting the best possible materials available within your budget. In addition, our expert craftsmen know the correct installation techniques to ensure a solid, leak-free roof for many years to come.
Honesty is Our Only Policy
Sometimes delivering the best possible service means less money for us, and that's OK! If MasterPro conducts a roof inspection and finds that all you need is a minor roof repair, we won't suggest a complete roof replacement just to boost profits. We do all we can to keep our customers' charges reasonable and affordable.
Call for a Quote on Roofing in Akron, OH
Whether you need roof repairs, roof replacement or a roof inspection, MasterPro Roofing looks forward to serving you. Call (866) 977-3808 today for a fast quote on any project!