Storm Damage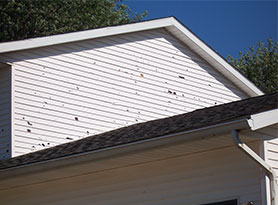 The MasterPro Roofing and Exteriors team lives and works in the same communities as you, so when your home suffers storm damage, so do ours. We'll work tirelessly to get Akron roofing repairs completed and your home back to its original condition (or better!). Just as importantly, we'll be around should you need follow-up service; the same can't be said for "storm chasers."
Avoid "Storm Chasers"
"Storm chasers" are out-of-town contractors who follow storm damage from city to city, offering to quickly complete repairs to roofing and siding. They often solicit business by going door-to-door, or advertise themselves as insurance restoration specialists. While there are legitimate out-of-town contractors who do this kind of work, they're mixed in with those who are nothing more than scam artists. The worst kind take money for repairs, do the work shoddily or not at all, then move on to the next town before homeowners can get their money back.
We strongly advise against using an out-of-town contractor when you need storm damage repairs. Even if you're lucky enough for repairs to actually be completed by a storm chaser, the company isn't going to return from Kansas or Florida to do warranty work on your home. Storm chasers also deprive MasterPro and other reputable Akron roofing companies of valuable business and opportunities to give back to the community.
Decades of Experience in Storm Damage Claims
Ken Smith, President of MasterPro Roofing, worked as an accountant for many years, and understands how the complicated insurance claims process works better than other Akron roofers. When you or the contractor you hire don't understand the proper procedures for filing a claim, or how the insurance companies pay out the settlement, or why they withhold depreciation, it could cost you thousands of dollars out of your own pocket. Ken makes sure every part of your claim is properly documented and submitted, so you get the money you need. Many MasterPro customers have received an entire roof at no cost to them.
Call for a Quote on Roofing or Siding in Akron
There's no need to look farther than your own community for expert storm damage repair! For the best service, the best products and the best workmanship at the best price, the choice is MasterPro Roofing and Exteriors. Let us demonstrate why so many homeowners turn to us when they need fast storm repairs. Call us today at (866) 977-3808 to get on our schedule!