Windows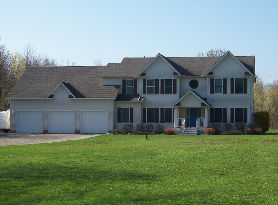 Old windows become a hassle for many homeowners. They're difficult to operate, a challenge to clean, and leave a home feeling drafty and unprotected from the elements – not to mention the heating and cooling dollars that literally fly out the window! If you have issues with poorly performing windows, MasterPro Roofing and Exteriors can perform complete Akron window replacement that will make an immediate difference in the comfort and beauty of your home. Think about these benefits.
Increased energy efficiency. The U.S. Department of Energy estimates that at least 30% of a home's energy can be lost through inefficient windows. Now there are many advanced features available to increase window efficiency, such as heat-reflecting, low-E glass coatings and argon gas between glass panes to minimize heat transfer.
Low maintenance. Vinyl, aluminum and fiberglass frames never require painting, and many window products now feature tilt-out frames for easy cleaning.
Cost savings. Replacing old windows will save an average of 10-25% annually on your heating and cooling bill. For most families, that's an additional $300 per year; over the life of the windows, the cost savings will nearly cover the replacement cost.
Increased resale value. Replacing old windows increases the value of your home, allowing you to recoup a good portion of the investment upon resale.
Expert Installation of Cleveland Replacement Windows
The installation of Akron replacement windows is just as important as each window's construction. The warranty of a top-quality window will be voided if there are gaps and air infiltration around it due to poor installation. The experience of MasterPro's certified installers is reflected in the quality of each installation, ensuring many decades of solid service.
To see what a difference our Akron and Cleveland professionals can make by installing beautiful replacement windows in your home, take a drive and check out homes with new, updated windows. You'll be amazed at how attractive, clean and fresh they make a home look.
Call for a FREE Quote on Cleveland Window Replacement
MasterPro Roofing and Exteriors sells and installs Cleveland replacement windows that are among the most efficient on the market, with superior thermal performance. Call us today at (866) 977-3808 for a FREE estimate on installing energy-efficient replacement windows in your home.